Whisky is an English word derived from the Scottish and Irish Gaelic, "uisge beatha" or "usquebaugh", meaning "water of life". Now, there is a massive audience for the "water of life", rich or poor. While an ordinary whisky nerd such as myself hasn't got the money to purchase really high-end whiskies, the wealthies often want to acquire the best of the best. Today, let us explore some of the Most Expensive Whiskies In The World.
1. Macallan 1926 – USD $1.9 mil
The Macallan was priced at around $75,000 earlier this year. However, on the 24th of October, just a mere few days ago in London. The Macallan 1926 was estimated to be sold for $450,000-US$578,000 in Sotheby's but the end result shocked the world, the estimation was not even a third of the final price.
The Macallan Fine & Rare 60 Year Old 1926 bottle went under the hammer for ~ USD1.9 million, topping the 'most expensive whiskies' list. Pure Insanity.
2. Macallan 'M' – USD $630,000
Yes, it's Macallan again but no surprise though, Macallan is a legend in the 'whisky game'. A large crystal decanter that was crafted by 17 crafters, filled with rare Macallan "M" whisky was sold for $628,205 at a Sotheby's auction in Hong Kong back in 2014. Although the bottle that was sold for over half a million holds 6 litres of whisky, when was the last time you paid that much for 3 big soda bottles (6L) worth of beverage?
3. Macallan 1946 – USD $460,000
"You've got to be kidding me, Macallan for all first, second and third? Really?" Sorry not sorry, Macallan is delicious and it can get crazy luxurious. The Macallan 1946 was vatted together from 3 different casks built from Spanish oak seasoned with sherry. This bottle of single malt whisky in a LaliqueCire Perdue decanter was sold in 2010 at an auction, went under the hammer for USD 460,000.
4. Dalmore 62 – USD $250,000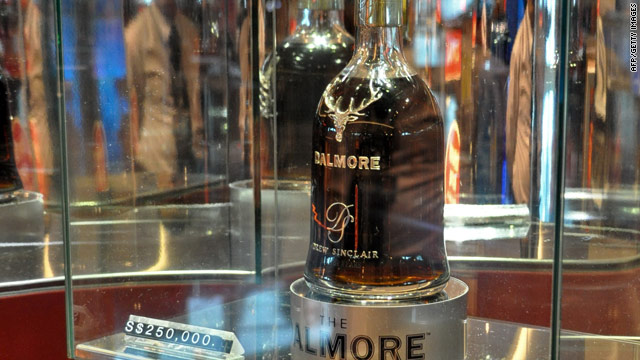 Displayed at the Singapore Airport, the Dalmore 62 was priced at $250,000 in 2010. In 2002, The Dalmore 62 was at a what then seemed insane $28,000 and in 2005 the price went up to around $41,000. But who would have thought the price could have gone up so quickly to a $250,000 level.
5. Dalmore Trinitas – USD $160,000
"The Dalmore 64 tastes like purple heaven," said master blender Richard Paterson. Now let me remind you that Richard Paterson is a highly respected authority in the whisky scene, his nose is insured for $2.5 mil by Lloyd's in London. For those who were lucky enough to try the Dalmore Trinitas described the experience as 'drinking liquid gold'. I wonder just how good of a whisky it really is.
—————————————-
Don't forget to follow us on social media to stay up-to-date:
facebook: Gentleman Pursuits
Instagram: @gentlemanpursuits
Twitter: @GMPursuits
Podcast: Gentleman Pursuits
Support the website on Patreon if you like it!
Click here to browse more of our articles!